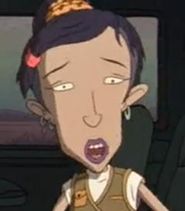 Bree Blackburn is Sloan's wife and the hidden secondary antagonist of The Wild Thornberrys Movie. She is voiced by Marisa Tomei.
Bree herself isn't seen until midway through the film, after Eliza jumps from a moving train to save a Rhino that had been shot. She was posing as a Wildlife Veterinarian. When the Rhino is taken by the Wildlife Rangers, she and Solan offer Eliza a lift to her parents campsite, but is relieved when she declines.
Ad blocker interference detected!
Wikia is a free-to-use site that makes money from advertising. We have a modified experience for viewers using ad blockers

Wikia is not accessible if you've made further modifications. Remove the custom ad blocker rule(s) and the page will load as expected.